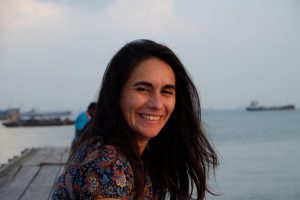 My name is Dianela Arroyo Fernández and I was born in Purén, this is a small and beautiful town in the south of Chile. Despite of this, I grew up and lived during great part of my life in Santiago de Chile, the Capital. Even if I had everything I needed: a beautiful family and great friends, my restless heart moved me to leave my home and go for more, explore and have the opportunity to know different people, landscapes, food, etc.
First, I moved to Iquique, in the north of Chile, and worked as a Geographer. It was here that I fell in love with the beauty of Atacama Desert, which is the driest desert in the world. While I was living there, a crazy idea came to my mind: "now that I'm here, why not visit and explore all the deserts in the world?", because I must confess "desert" is my favourite landscape.
In Iquique I met a lot of great and beautiful people, all of them were (and still are) my guides, friends and partners, and they gave me the inspiration to continue feeding my restless heart and supported me in the worst moments of my life when my mother passed away.
After six years living in Iquique, I moved to Santiago again, and while I was there, I received an offer of work, of course I took it, and stayed there for another two years. It was a beautiful experience too, full of emotions and great new friends.
However, during that period of time, personal things affected not only my private life, but also my job, and as a consequence, I was fired. I was very sad the first day, but on the second, an idea came to my mind: "I have to decide, either I stay here crying, or I do something useful" and from that question, I talked to myself "why not make a long and unforgettable trip?"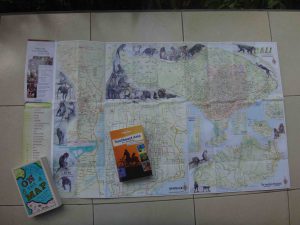 Since that moment, all the perspective changed completely for me, and very old ideas recovered strength, for example "visiting the different deserts in the world", "Southeast Asia is a very beautiful place to go", "visit all the places in South America", "go to Australia and drive by car the whole continent". So many options I had in my mind, all of them very inspiring and beautiful for me, but despite of them all, my favourite was "Southeast Asia", it was so unknown, so far from Chile and Latin America, so different, and a great culture to discover. Once I decided this, I checked the different possibilities of going there, and everything was really expensive and out of my budget range. However, that was crucial for me, because a very old and forgotten idea came to my mind again.
During my student years at the University, I read about a very long trip by train from Moscow either to Vladivostok or Beijing, and I wondered "why not go to Southeast Asia from Russia by train?". Of course this really was a much cheaper option, and I always had in mind making the Trans-Siberian railway trip, it was somehow "my dream trip" for long time, however I'm still wondering how I forgot it for so many years.
After deciding this, I arranged and prepared everything, I packed my backpack and arrived in Moscow in April 2016. From that moment a great adventure began and it changed my life completely.
---
I am Dirk Krampe and I live in Freiburg in Germany, my second home place, where most of my family and friends are located. I did grown up in Ruhr Valley/Bochum, a region I am still closely connected.
Well, when I started traveling on my own at the age of 18, everything of a trip had to be planned in advance, to make me feel comfortable (and I am good at planning ;-)). Now some decades later after quitting my job in the IT business, I enjoy letting the trip flow and deciding during the trip where to go next. I often extend a stay in one location if I discover some more interesting things there. On my first three month trip with family in 2006, I discovered South Africa, India and Thailand. I remember being so happy to leave India after only two weeks staying there! However, after returning to Germany I could not stop thinking about the magic of this unusual and chaotic place. So now I usually return at least once a year. Following this trip, I then visited Nepal, where I am now involved in several NGO projects which help to improve the lives of the local people. Whilst travelling I try to contribute as much as I can to the local economies and communities by getting involved with volunteering initiatives and trading their local artisan produce, such as spices and textiles, in Germany.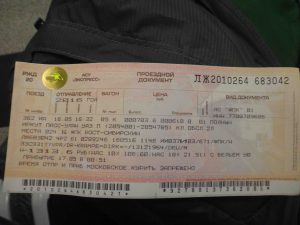 Soon I noticed that traveling slowly and spending more time on the travelling process provides a much richer experience for me. It allows me to be closer to local people and their cultures. I have explored Europe by train, been to Morocco and travelled from Kathmandu to Mumbai by bus and train. One of my dreams always has been reaching Asia without plane – using the Trans-Siberian railway. So in April 2016 I left Freiburg towards Berlin, Warsaw, Belarus to reach Moscow. I did book only the train ticket up to Moscow, did not speak Russian and also was not able to read any Cyrillic. But this was part of what I wanted to experience.
---
What happened then?
So we both arrived at the same time in Moscow, at the Godzillas hostel which is a great place to meet travellers from all around the world and to explore the city of Moscow. Both of us had the same destination we were going to Beijing in China using the Trans-Siberian railway. In the beginning we traveled with good company in Moscow, to Suzdal and St. Petersburg. At some point we continued alone and found that we both were good travel mates. We liked the simple way of travelling and changed our initial plans again and again (e.g. we stayed in Mongolia about a month and in China for even longer). My final destination was Vietnam, Dianela wanted to go from China to Indonesia. Finally we decided to go to Thailand first, then continued south using mainly trains and buses: to Malaysia, Singapore and then Indonesia.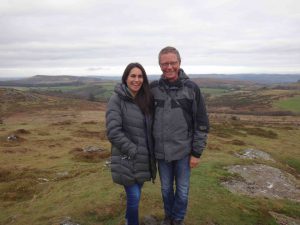 After 8 months travelling, we then spent our first winter together in Germany, this was a stark difference to our Asian experience…. We noticed that we missed many places in between. This is almost the hardest part of any trip: you have to choose between the places you visit and those you keep in mind for the next opportunity. You meet so many interesting people who provide much inspiration on how to enjoy life: we met a German guy who travelled to China and back by bicycle, a young French traveller who quit his job in the nuclear power industry to go Japan for a year or more just to learn how to practice Shiatsu; and a Norwegian guy who is continuously travelling and only returns to Norway for a few months to earn money for the next trip; People returning from Australia to Europe or South America mainly over land. Some people you meet for only a day or two, others quite surprisingly, you meet again and again while travelling. With some you may decide to spend a few weeks together, it's always nice to make friends this way as you have something in common: Discovering the world and sharing your experiences.
After we returned, to Europe, Dianela and I discussed how we can contribute with our experience and support people who want to make their own travel dreams come true. We noticed that many people hesitate in starting their trip and don't take the plunge for many reasons: either they don't have enough time, they have a limited amount of money, or they are afraid of different countries and cultures so they have limited knowledge about other languages and finally some of them just simply don't know how to start. So this is how the idea of our offering was born.